I want to congratulate Rebecca aka mamabee for submitting her awesome layout-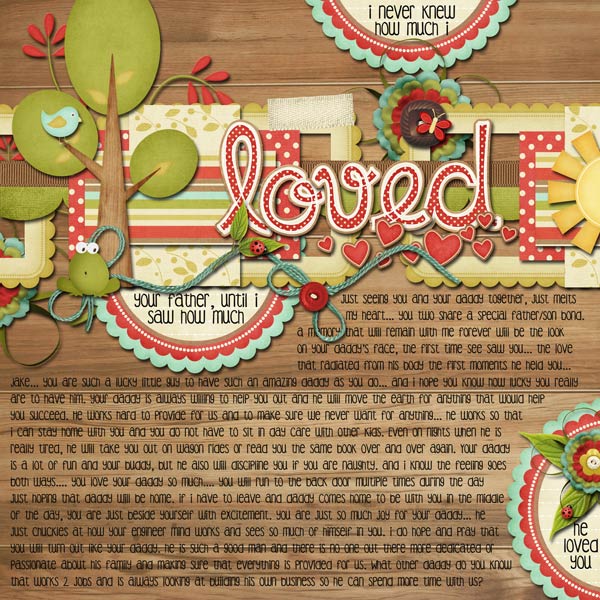 into our journaling challenge last month! As part of her prize, I am going to do a Spotlight on her. She has a truely unique and beautiful scrapping style and I am sure you have seen her layouts around!
Here is a brief bio on Rebecca!
I'm Rebecca and I'm a 34 year old SAHM to one very well photographed 3 year old, Jacob. I'm also wife of 5 years to David, who is very supportive even though he doesn't totally understand how I can spend so much time and money on digital bytes of data. LOL! We live in Wisconsin... smack dab in Packer Country! I started traditional scrapbooking in 2000 after a 13 week business trip to England. My step-dad lent me his brand new camera that took digital photos and saved them on 3.25 disks!!!! I had over 500 photos at the end of the trip and tons of brochures on places we saw and I wanted a creative way to display those... that is when I took my first trip to Hobby Lobby. I didn't get into Digital until 2008, when I purchased Memory Maker for my mom... I wanted more selection in kits... and that is when I found SSD and I was officially hooked on Digi. Once in awhile I do make pre-made traditional paper albums for family and friends as gifts.
What program you use? and what camera?
Photoshop Elements 7.0... I do have CS4 but haven't taken the leap to switch over yet. I shoot with Canon Rebel and just got a Canon Powershot 1300 as my "purse camera"... love it!
Must have items on your pages?
Buttons are a must... a page isn't complete unless there is at least one button on a page.
Your favorite KCB layouts (that you have made) & your favorite kits!
Two of my most favorite layouts happen to use the same kit... and it's one of my favorite kits... Artist's canvas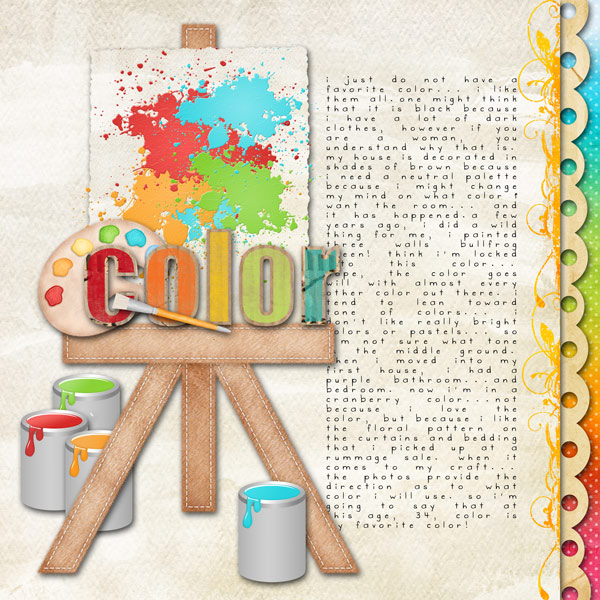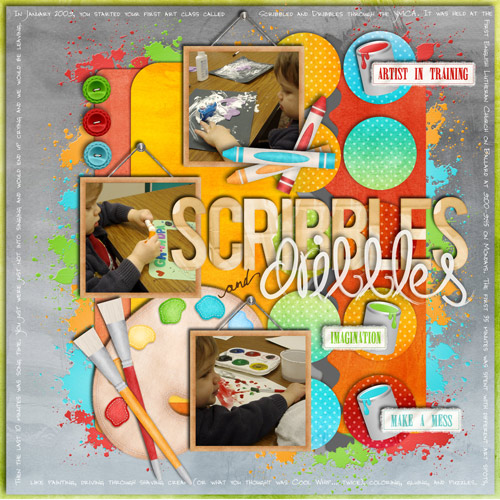 What inspires you? Everyday events... I scrap the moment, little things that my son says or does... even packaging designs of things like laundry detergent... Things that I don't remember from my childhood, much less a year ago!
how long have you been digicrapping? I've been digi for 2 years.
any advice or secrets tips to share?? The only advice I have is to scrap for yourself and not worry about why you aren't on gallery standouts or get a lot of comments... if you scarp for yourself, your true style will come through and you will like your pages more and more people will like your pages. :)
Here is a link to
Rebeccas gallery
, take a look at all her beautiful layouts!! Thanks for playing along Rebecca!