Hi everyone! Kiki here, and this week I'm throwing the spotlight on Kristin's newest member of the team, Rebecca. You probably know her as MamaBee over as Sweet Shoppe Designs. I sent her some questions that I thought would help us get to know her a bit better. Very insightful... :)
How long have you been digi-scrapping? And how did you get into it?
I've been digi-scrapping since 2007 or so... I was a huge paper scrapper and never thought I would ever do digi!!
Then the summer before I purchased a copy of Memory Mixer for my mom for her birthday... after six months of it sitting on the shelve, I decided to install and see what all the fuss was about. I wondered what else was out there for elements and paper and that is when I stumbled upon SSD and the rest, as they say... is history.


What program you use? and what camera?
I currently use PSElements 7... however I do have a copy of CS4 loaded on my laptop. I've been meaning to give it a go... however I always come back to Elements because I'm impatient and need to get my layouts done. I'm a Canon Girl... I have a Rebel DSLR and a Canon PowerShot that is my purse camera.
Do you print out your layouts? Have you made any photobooks?

I do print out my layouts in 8x8 format and they are put into D-ring binders. For special projects, such as Project 365, December Daily, and In the Week of; those are printed into hardcover photobooks.
What are your favourite layouts and why?
Oh my gosh... this is always the hardest question...This hybrid art just makes me happy every time I look at it. I had this pictured in my head for weeks before I sat down with put it all together... also my sweet 3 year old punched all those hearts for me.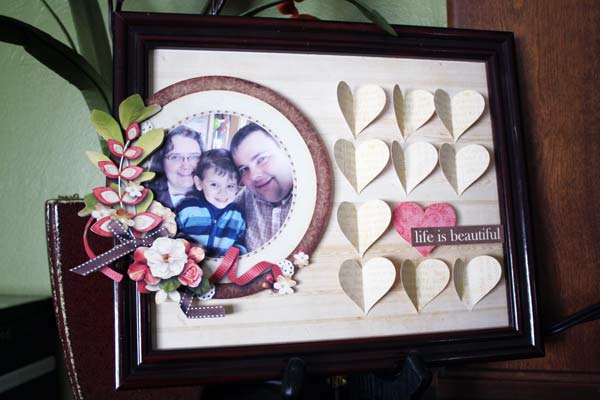 My son simply adores this album about the little train ride we took at the zoo this past summer. Every time someone comes over, he has to bring out this book for them to "read" it with him.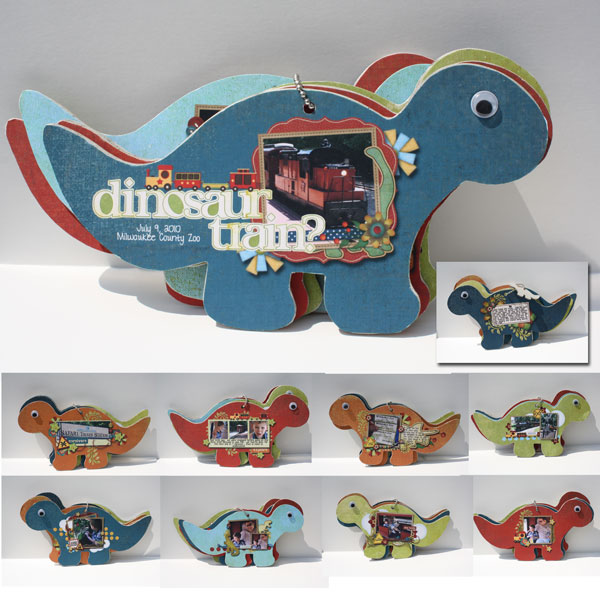 This layout makes me a bit sad to see how my son has changed in the last 3 going on 4 years... but it also reconfirms why I scrapbook... it is my way to stop time because in a blink of an eye he will be out of the house with a family of his own...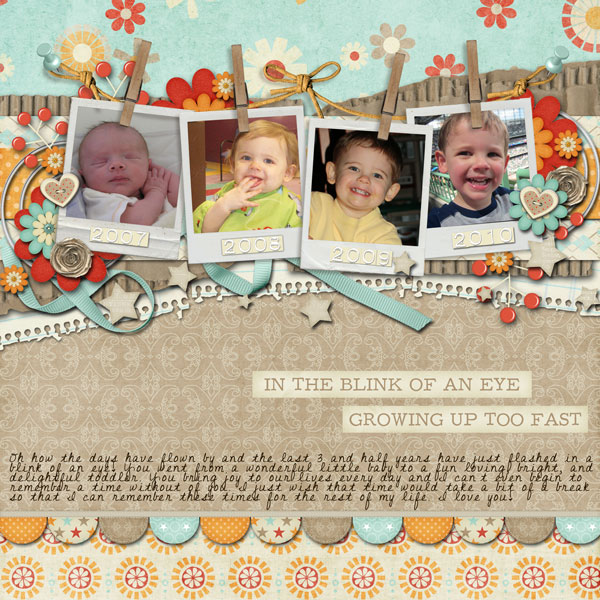 What are your favourite KCB products?
Okay, I take back what I said earlier... this is the hardest question! Is there a link all button? Okay... I have to say that I love, LOVE, when KCB does a theme kit... those really are my favorites..

All Aboard
- with a train obsessed little boy in the house, this kit has been used MANY times!!
Artist Canvas
- hands down this has to be one of my top 5 favorite of any designer!
Bookworm
- every time I look at this kit, I just want to curl up with a good book and become lost in it's pages!
What's your favourite type of picture to scrap?
Everyday photos... as much as my life seems to be the same day to day... they are the days I want to remember forever.
What inspires you?
My son inspires me... especially in hybrid... he has such a thirst to learn that I'm constantly thinking of ways that I can make learning fun... my list is getting longer and longer... now if I can just find those extra hours in a day...
Do you have any digital scrapbooking tips and tricks you want to share?
Think about why you partaken in this hobby (or in my case, obsession)... do you do it as a creative release or as a way to capture your family's story? Once you have the answer, always keep that on the forefront in your mind. Hopefully then you will continue to enjoy scrapping and avoid that dreaded runaway mojo!