Since we have a new team I thought it would be fun to do a double Spotlight today to get to know our girls a little better...and to show off how wonderful scrappers they are! So onto the spotlight!!
First up:
Irish_eyes22 aka
JEN!
What program do you use?
I recently gave up my resistance to Photoshop and jumped in head first with CS4. It took me a few months to really feel comfortable with it, but now I can't imagine ever using anything else.
and what camera?
My camera is a Sony A100. It's a wonderful camera, and I do love it. But I'm ready to go with something else (I'm still not sure what yet, but I'm still saving money - so I have some time)
Must have items on your pages?
I love strings and ribbons and other swirly, layer-able items. They're so much fun to intertwine with each other and shadow - I always try and add them to my layouts. And if there's room, I must add journaling!
Your favorite KCB layouts (that you have made) & your favorite kits!
My favorite layout right now is my most recent one. I just LOVE how it turned out. I was having a really hard weekend, and this layout ended up being a little therapy session for me. I felt wonderful after finishing it up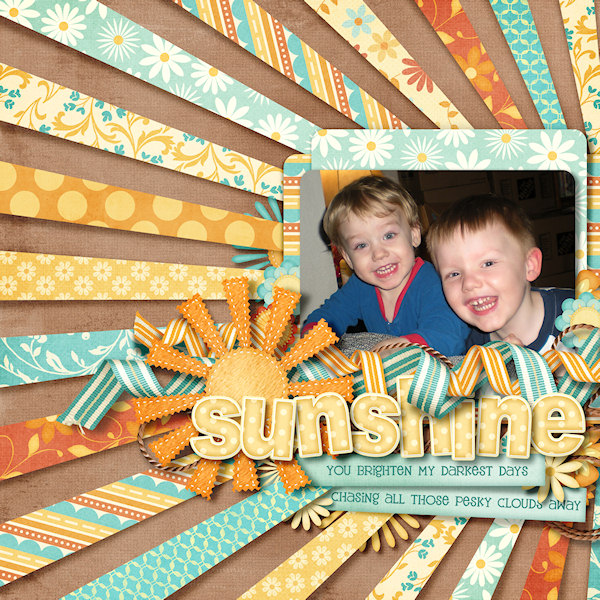 your favorite kits!
You're really gonna make me choose! Can I just say "All of the Above" and call it good!?!
What inspires you?
Pages that tell a story. Tells it with photos, or with the kit, or with journaling - or a bit of everything. I'm so inspired by someone sharing a little bit of themselves for all to see. I've looked at 1000s of layouts - and it's the ones with stories that stayed with me the longest. So now, I do my best to tell a story with every layout I make.
how long have you been digicrapping?
I've dabbled with it (off an on) for around 4 years. But I didn't get serious (as in, I'm ready to see these printed, and maybe get good enough to be on a CT or two) until almost a year ago. And I never looked back
any advice or secrets tips to share??
I often still feel like I have so much more to learn myself, so if I can offer any advice - it's to do what I do -- constantly push yourself to try new things, and learn all that you can. Don't be afraid to try something new - and don't be discouraged if it doesn't turn out the way you hoped. But mostly - to never forget why you started scrapbooking in the first place: because you enjoy it
Here is a link to her
gallery
, Please take a look, Jen has done many beautiful, inspiring layouts! And don't forget to leave her some love!
Next we have:
Pomi aka
MAJDA!
Brief Bio:
I live with my husband, our two daughters (3 and 1 yo) and our dog near Prague in Czech Republic. I'm a SAHM. I love my family, my garden, running, dancing, yoga, walking in the mountains, photography and digi scrapbooking.
What program and camera do you use?
I use Photoshop CS and Nikon D40.
Must have items on your pages?
Must have items - I'd say stitching and/or flowers. But there are pages where there isn't any of them.
Your favorite KCB layouts (that you have made) & your favorite kits!
My favorite layouts with Kristin's kits:
My favorite kits are the ones used in them - Natural Beauty (retired) and Cherry Blossoms. I also love the newest one - A Mother's Love - and Good Morning Sunshine.
What inspires you?
I have - like everyone else, I think - various sources of inspiration: sometimes it's a photo, sometimes a certain kit, a song, an artwork, an advertisement and of course the gallery and the challenges at SSD.
how long have you been digicrapping?
I started digiscrapping in 2007 when my older daughter was born.
any advice or secrets tips to share??
I am not good at Photoshop techniques and have a lot to learn yet, so no technical tips from me. So I'd just say when creating a page (or anything else), enjoy the journey, not just the destination (I'm in philosophical mood today ).
Here is a link to Pomi's
gallery
, absolutely stunning! Please take a gander and leave her some love!
Well, there you have it! A little info about some of the new ladies that have just recently joined the team, and very obvious as to why Kristin choose these 2 amazing scrappers! Have a great Thursday!