Happy Earth Day everyone!!
I'm here today to share with you my latest hybrid creation - a garden journal! We bought a house last year, late spring and I left everything alone while I waited to see what plants were already here. This year I'm planting tons of new flowers, making a small veggy garden, starting a herb garden.... lots of new things that I want to record my progress with. So I made a journal with everything I wanted it to have in it. Here's what my finished Garden Journal looks like: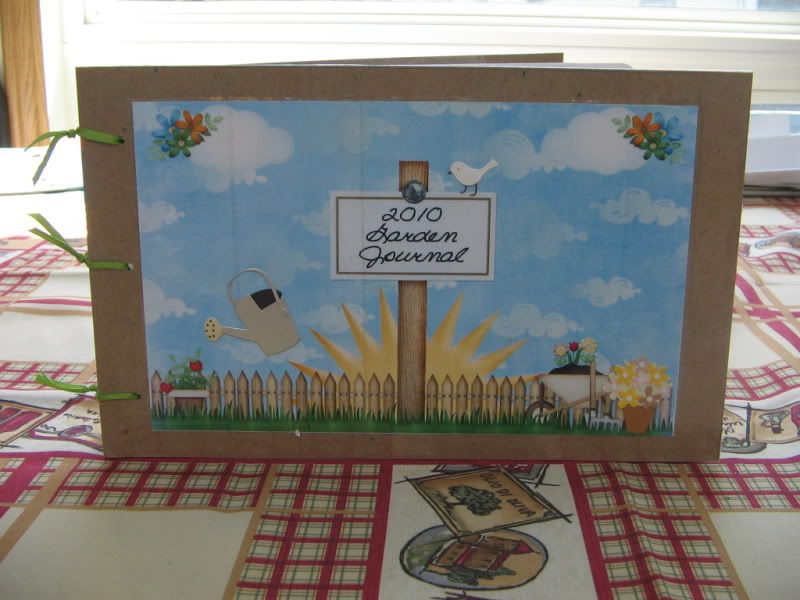 So the first thing I did was figure out what I wanted in my journal (garden layouts, plant info and project ideas), how many pages for each category (just a few for some, and lots for others!), and what I would use as my album base. I chose to use old file folders as my base. I then had to figure out the sizes of the individual pages once I cut the folders in half. Then I was able to design the pages in PSP (my program of choice) and print the pages out on my home printer. Once printed I was ready to assemble!
I gathered supplies and tools:
Printed pages, covers and labels
3 file folders
ribbon, glue, scissors, paper cutter, hole punch, corner punch, packing tape (for "laminating covers) I also added some stickers that my DD bought me a year ago but I hadn't used yet!
Then I started cutting out the pages (I printed 2 per sheet) and cut the file folders in half. Each file folder piece gave me 4 pages in my journal. Here's everything cut out and ready to assemble: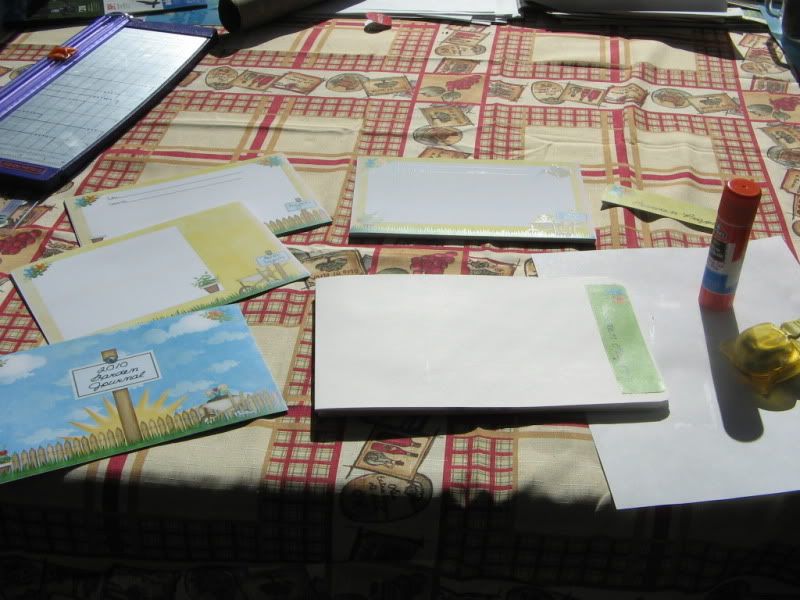 (sorry for the poor quality photos, the sun was my nemesis all morning!)
I glued on the labels and started glueing the pages onto the file folder "pages". The sun was so hot at my kitchen table this morning, the glue was drying before I could get it onto the pages... lol (I was using a glue stick). But eventually I got all the pages glued on.
Next I glued the covers to some cardboard sheets I had saved from some packaging (I always save the flat, sturdy ones just for this kind of thing). I also used the packing tape at this time to protect the covers, at this rate I think I really need to invest in a laminator - I use packing tape for this so much that I store it with my crafting supplies.... LOL!
Then I used my Crop-a-dile (though you can use any hole punch) and punched holes in the covers and folders so that I could thread a piece of ribbon to bind it all. I kept the ribbon a bit loose when I tied it so that the pages of the journal can lay flat when open.
Here are the different page types I have in my Garden Journal:
And that is it! I bet you are wondering what KCB kit I used - well.... here it is:
It is called...
My Happy Garden
and is hidding in the Penny Candy section of the Sweet Shoppe - that means you can get it at 30% off!
So that is it for me today! Next time you are wanting to make an album or journal - see what materials you might already have on hand... it will keep the costs down, and use up some stuff you probably have just lying around... lol.
Have a happy scrappy day KCB fans!