Hi everyone. Kiki here. Before I get into today's main subject, I have a winner to announce from last week's Vacation Challenge: The winner, as chosen by Random.org is #2, julie! Julie, I'll be contacting you by PM at Sweet Shoppe Designs for your prize.
Today I'm going to be doing a CT spotlight on Kirsty!
Thats so exciting! I've never been spotlighted before! Here are my answers:
How long have you been digi-scrapping? And how did you get into it?
I've been digi-scrapping for nearly 5 years now, I originally stumbled across it when I was looking for cool things to do for my baby shower when I was pregnant with my oldest son. I stumbled on the HP website and something about digi-scrapping which took me to Shabby Princess website and I downloaded my first kit! And I've been scrapping ever since!
What program you use? and what camera?
I currently scrap use Photoshop CS4 on my MAC and I have CS3 on my laptop. I have two cameras, my main camera a Nikon D300 and I also have a little point and shoot Olympus which is always in my handbag, but doesn't get used as often as my D300.


Do you print out your layouts? Have you made any photobooks?
I normally print my layouts at 8x8 to go into my kids albums, but have had a couple printed at 12x12 which are hanging in my children's rooms.
What are your favourite layouts and why?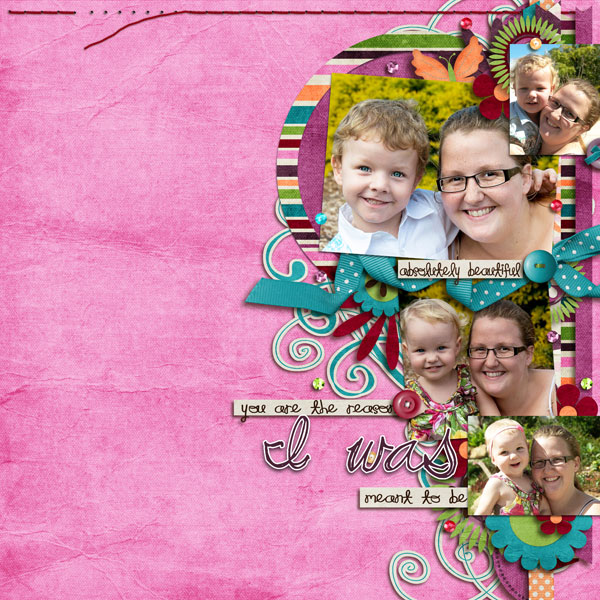 Normally I'm behind the camera, but this past Mothers Day I was able to get some new photos with my kids, and I really treasure this layout. All their different personalities shine through the photos.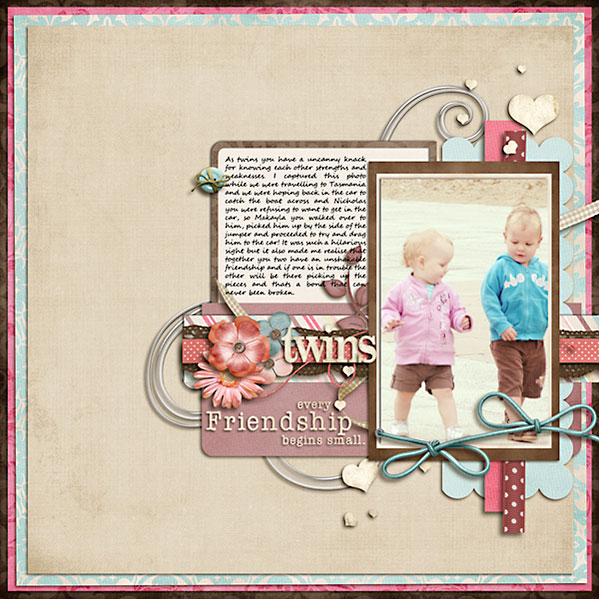 I always want my layouts to have meaning and my photos to be able to tell the story even without reading the journalling, and this one of my twins just really shows the bond that they have together.
What are your favourite KCB products?
There are so many! I love Kristin's kits, they are always so full of elements and papers to play with and as soon as I open up her kit, I can just feel the layout creating itself, everything always comes together perfectly!
I'm torn between two though -
Tropical Hideaway
and
A Mothers Love collab with Scrapkitchen
.
What's your favourite type of picture to scrap?
Nearly 100% of my layouts involve pictures of my kids and I love preserving their moments in time, so when they get older they look back and see what a fun childhood they had and how their mum spent so much time preserving it for them.
What inspires you?
Lots of things my family and friends, other scrappers, fellow photographers even pictures I see in the magazines have inspired me to scrap a layout.
Do you have any digital scrapbooking tips and tricks you want to share?
Enjoy what you do! Scrapping is so much fun so get creative and experiment with styles you might not normally try, you never know how much you will love the finished layout!
Thank for the tip Kirsty!