Hi everyone. It's Kiki here with today's CT Spotlight. I get to spotlight Laura today who is a genuine sweetheart with some real talent:
How long have you been digi-scrapping? And how did you get into it?
I've been digiscrapping for about 5 years. I started when my oldest daughter was about 3 months old. I was visiting an online parenting board and everyone had these cool siggies. I got curious and wanted to make my own, so i bought PSP 8 and away i went. It slowly evolved into digital scrapbooking and i've been hooked ever since!
What program you use? and what camera?
I use Photoshop Elements 6.0 now. I just got my 'baby' earlier this year. I have a Canon EOS Rebel XS. I love my camera LOL
Do you print out your layouts? Have you made any photobooks?
I don't print near as often as I should, BUT, I do print. I have a couple photobooks and I have a slew of minibooks and hybrid albums.
What are your favourite layouts and why?
oh man! that's no fair! I really love all my layouts but i'd have to say
this one
is one of my favorites.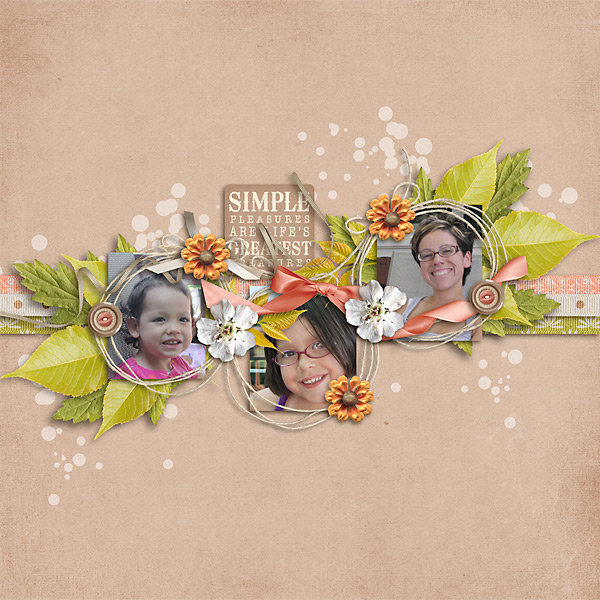 What are your favourite KCB products?
all of them? lol my favorites are usually the 'generic' ones that i can use over and over again. currently it's her latest
scoop
with Miss Meg. i LOVE how happy and bright it is.
What's your favourite type of picture to scrap?
I love to scrap the candid, silly shots that just capture my children's (or husband's) moods. The moments that I won't remember 10 years from now.
What inspires you?
Everything. Lately I've been scouring the paper galleries that are online. It amazes me that they can make their layouts look that...and I love all the shapes and paper layers.
Do you have any digital scrapbooking tips and tricks you want to share?
hmmm, I'd say if you're looking to be a layering 'queen,' don't look at a flower or a journaling mat as what it is specified for. Look at it as a shape and utilitze that shape. I can't tell you how many times I've used a journaling mat as something VERY different than a journaling mat!