Good morning everyone. Here's a spotlight on Kjersti. You are going to love getting to know her better. I just call her the Queen of Dropshadows, clusters and all things wonderful, but that's just me. You'll see from her layouts though that she is just an amazing scrapper, especially when it comes to working with Kristin's products.
How long have you been digi-scrapping? And how did you get into it?
I heard the term "digi-scrap" one day so I googled it. I started clicking on sites and a whole new world opened up to me!! I uploaded my first layout to the Sweetshoppe in July 2009 and I've been hooked ever since.
What program you use? and what camera?
I have the Nikon D3 which I absolutely love and my favorite lens is the Nikkor 24-70. I just got Lightroom 3 a couple of weeks ago but I'm still trying to figure out how to import and export my photos!! I use CS4 to create my layouts.
Do you print out your layouts? Have you made any photobooks?
I've made several photobooks and my girls just love laying in bed at night looking at them. It's really hard for me to journal but I'm realizing how important it is to tell the story that goes with the photographs.
What are your favourite layouts and why?
I love this layout because my daughter was spinning, and spinning, and spinning while I was trying to take her photo! I think I captured her personality and was able to have it really shine in the layout.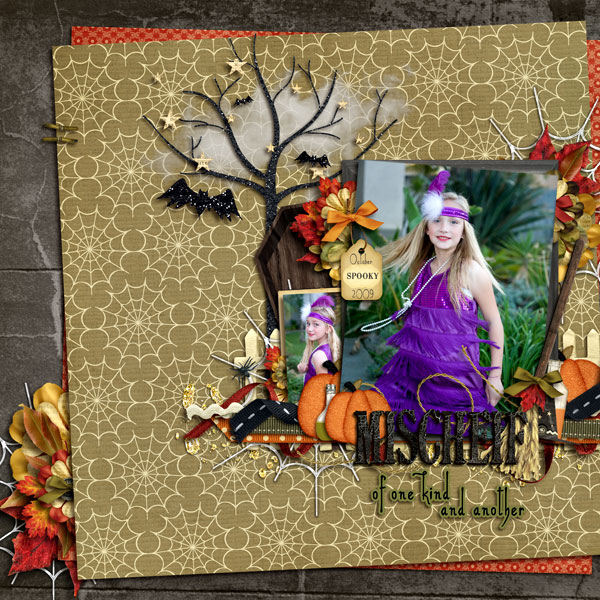 I was really sad when my daughter started first grade and I didn't have my buddy around anymore. I made this layout so I could remember how much I missed her while she was at school!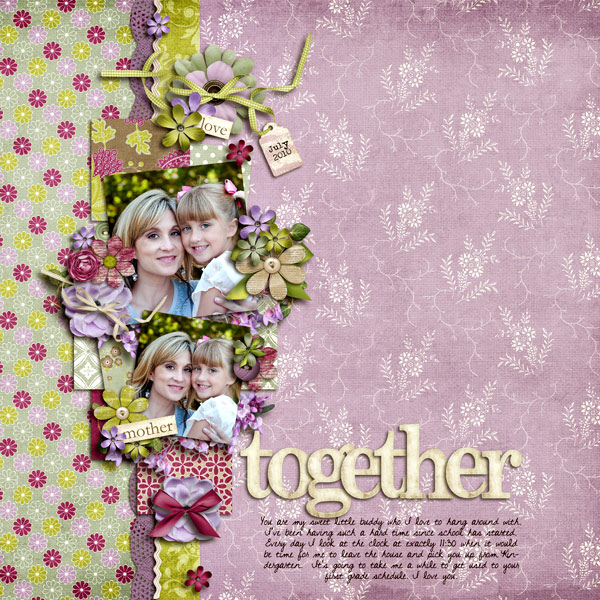 What are your favourite KCB products?
My favorite kit is
Daydream Believer
.
What's your favourite type of picture to scrap?
I love scrapping simple photos with not to much going on in the background. I've noticed I tend to crop in pretty tight on the faces!
What inspires you?
My girls inspire me. Life goes by pretty quickly. My daughters are already ten and six and I want to capture every moment and cherish it forever. I never want it to end. I want to scrap it all!
Do you have any digital scrapbooking tips and tricks you want to share?
I finally learned that you have to design pages for YOURSELF. Pages that YOU actually love and that bring a smile to your face when you look at them.