A few weeks back I helped host a baby shower for a dear friend. I was in charge of games, so I decided to create a quick, easy, and inexpensive gift to use for the prizes.
I just LOVE Kristin's
A Bushel and a Peck
kit! The color palette is one of my favorites, and the papers are so unbelievably yummy!
This kit was the perfect choice for a sweet summer gift. I got the note pads in a package of 10 from an office supply store. I don't remember the exact cost, as they've been in my stash for a while now, but I know they weren't very expensive. The pen is a
Pentel
RSVP, but any pen that will allow you to remove the end and place a piece of paper inside will work.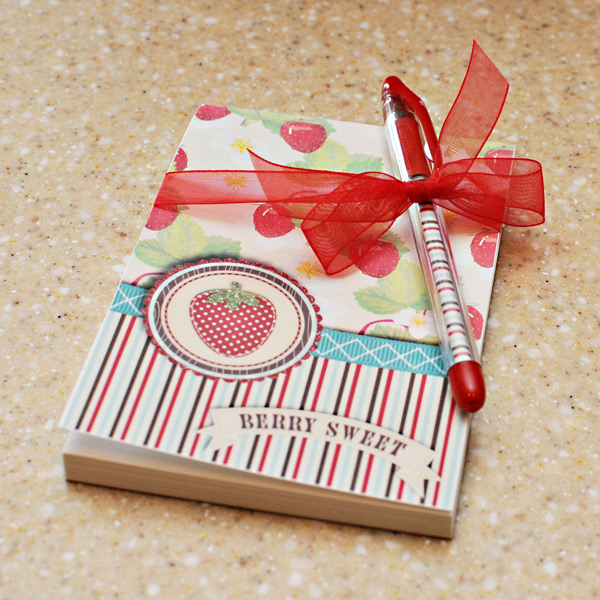 I measured my notepad and then created a canvas in
Photoshop
that was an inch longer than the front so I would have extra paper to wrap around the top and back part of the notepad. I added a few papers and then selected a few elements from the kit to embellish the front. I could have printed these out separately, but since I was pressed for time, I chose to add shadows instead to provide some visual dimension to
the front.
I measured the barrel of my pen and created a canvas that was 3/4" wide and the height of the barrel. I added a matching stripe paper to that canvas.
I printed everything out onto matte presentation paper and then cut the pieces down to size using a
Fiskars
paper trimmer. I removed the pen end, rolled up the strip of paper, and placed it inside the barrel. I replaced the end of the pen. I added a couple of strips of red line tape to the top and top back of the notepad, and then placed the red portion of the printed cover on top of the tape.
I picked out some red ribbon and tied it around as a way to attach the pen to the notepad for giving.
It was a very quick little project and took me about 15 minutes from design time to completion. It's a great little gift for anyone!